Omakase Berry Tartine with Fresh Ricotta and Strawberry Sofrito
This recipe was developed for a special event at the Food Education Fund in NYC, preparing high school students for a career in the culinary arts. It's a sweet and savory Omakase Berry toast with caramelized Omakase Berry sofrito, creamy ricotta, and fresh marinated berries.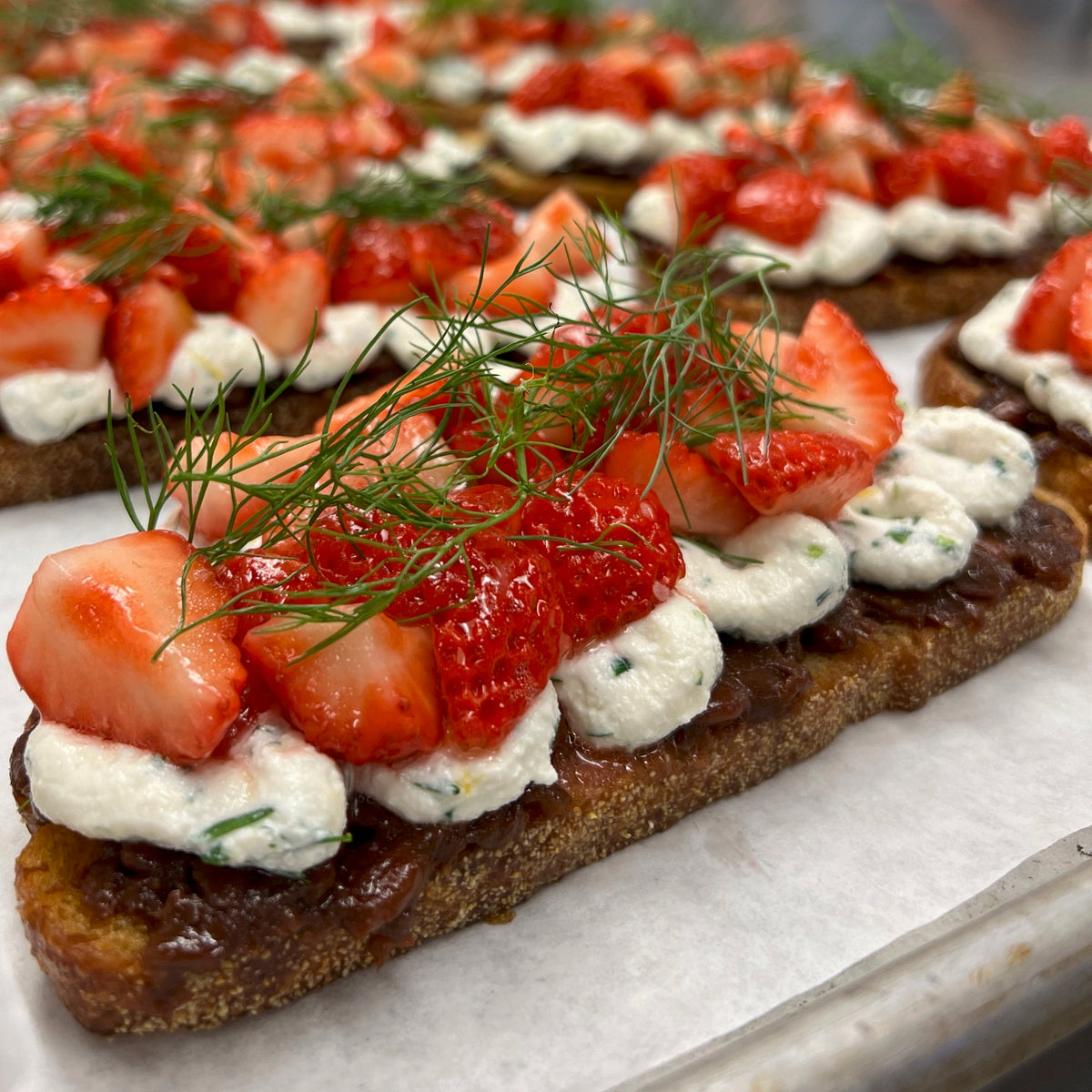 What You'll Need
1/2 Cup Olive Oil
1/2 White Onion; Finely Diced
1/2 Bulb of Fennel; Finely Diced
20 Frozen

 

Omakase

 

Berries

6 Fresh

 

Omakase

 

Berries

; Quartered
1/4 Cup Untoasted Pine Nuts
4 Slices Sourdough Bread Toasted in Olive Oil
4 Tbsp Chopped Herbs (Parsley, Tarragon, Chive Mix)
2.5 Tbsp Lemon Zest
3/4 Cup Fresh Ricotta
4 Tbsp Parmesan Cheese Grated
Olive Oil, Lemon Juice, Salt, and Pepper to Taste
How to make it:
For the sofrito, heat 8 tbsp olive oil in a medium pan, then add diced onions, fennel, and pine nuts. Over low heat, sauté until the nuts turn a light brown color.
Add the frozen

 

Omakase

 

Berries

, and cook down over very low heat while continuously stirring until it turns a dark red color and the oil separates. Season with salt and pepper. Set aside.
Next, mix ricotta with chopped herbs, lemon zest, parmesan, salt, and pepper.
Mix quartered fresh

 

Omakase

 

Berries

 

with a squeeze of lemon juice and olive oil. Season with salt and pepper.
Smear sofrito over toast, then top with the ricotta, then the fresh marinated

 

berries

. Top with more olive oil and fresh herbs if desired.