Savory
Koyo Berry Summer Salad with Poppyseed Dressing
This refreshing salad by Sarah Janneti is a true summer delight, with the sweetness of our Koyo Berries, the crunch of candied walnuts, and the tangy poppyseed dressing complementing each other beautifully. It's a perfect addition to any summer meal or a delightful standalone dish.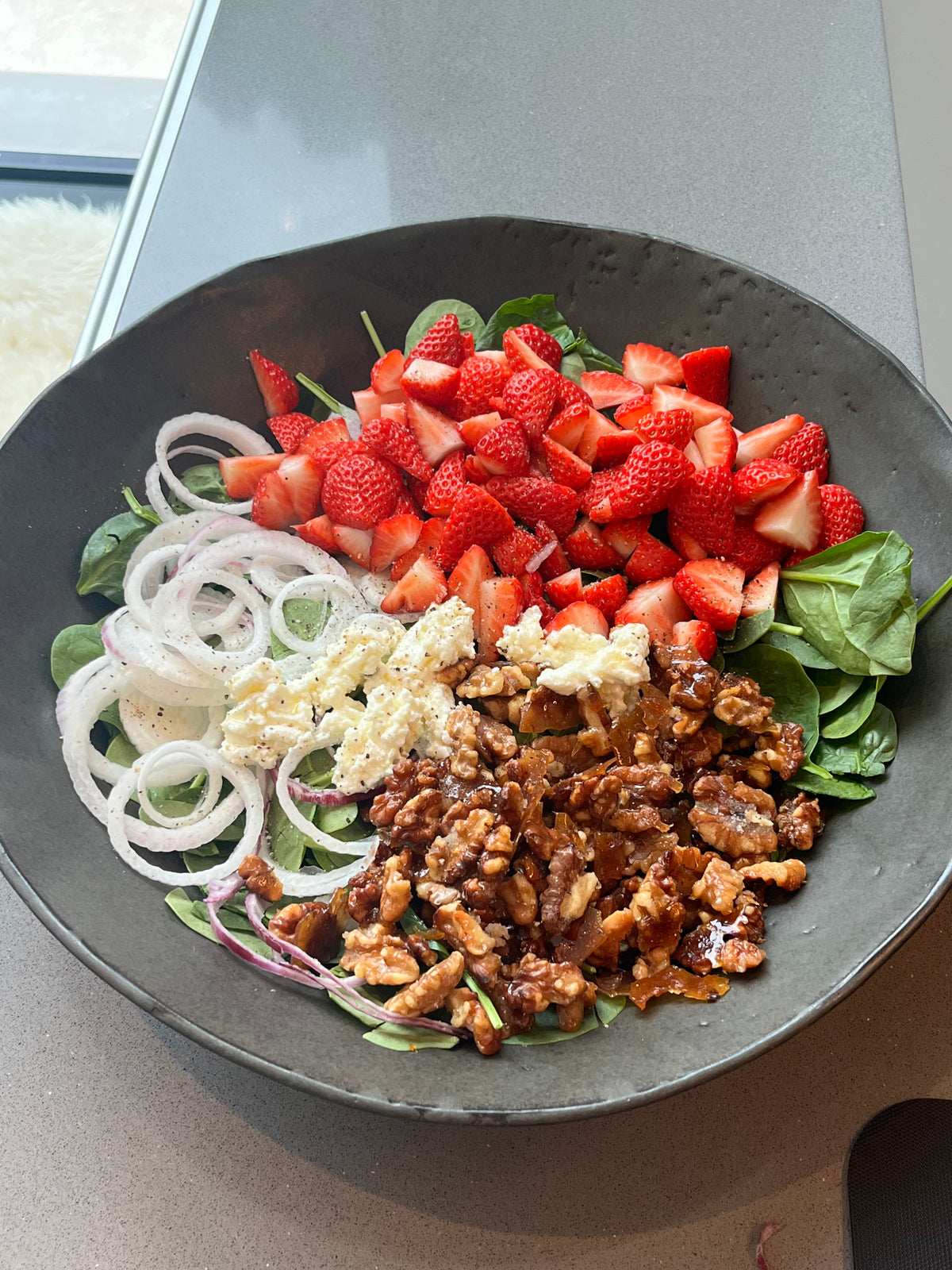 What You'll Need:
For the Candied Walnuts:
1 cup walnut halves/pieces

1/4 cup white granulated sugar

1 tablespoon unsalted butter
For the Salad:
6 cups of fresh spinach or arugula (or a mix of both)

1/2 a red onion, soaked and drained

3 tablespoons crumbled feta cheese (Meredith Dairy sheep and goat feta preferred)

3 trays of Oishii Koyo strawberries, stems removed & sliced. 
For the Poppyseed Dressing:
1/4 cup balsamic vinegar

5 tablespoons extra-virgin olive oil

1 tablespoon poppy seeds

1 tablespoon honey

1/2 teaspoon Dijon mustard

Salt and pepper to taste
How to Make It:
Make the Candied Walnuts:
Heat a nonstick skillet over medium heat.
Add walnut halves/pieces, white sugar, and unsalted butter to the skillet.
Stir frequently for about 5 minutes until the sugar melts and coats the nuts evenly. Be cautious not to let it burn, especially towards the end.
Once the sugar mixture is completely melted and the nuts are coated, immediately transfer them onto a sheet of parchment paper.
Separate the candied nuts quickly using two spatulas before the coating hardens.
Allow the candied walnuts to cool, and once they are hardened, you can add them to the salad.
Prepare the Salad:
Wash and dry the spinach or arugula, or a combination of both, and place it in a large salad bowl.
Slice the soaked and drained red onion into thin rings or strips.
Add the sliced red onion, crumbled feta cheese, and the perfectly ripe Oishii Koyo strawberries to the salad bowl.
Make the Poppyseed Dressing:
In a separate bowl, combine balsamic vinegar, extra-virgin olive oil, poppy seeds, honey, and Dijon mustard.
Season with salt and pepper to taste.
Whisk the dressing until all ingredients are well combined.
Assemble the Salad:
Drizzle the poppyseed dressing over the salad mixture in the bowl.
Gently toss the salad to ensure all ingredients are coated with the dressing.
Top the salad with the candied walnuts.