Koyo Berry Brown Butter Granola Parfait
We've teamed up with Tom's Perfect 10 to create the ultimate Koyo Berry Brown Butter Granola Parfait. ⁠⁠Tom's Perfect 10 Berry Shortcake Granola is toasted in brown butter, layered with yogurt and a homemade Koyo Berry compote cooked in caramelized honey until thick and jammy. ⁠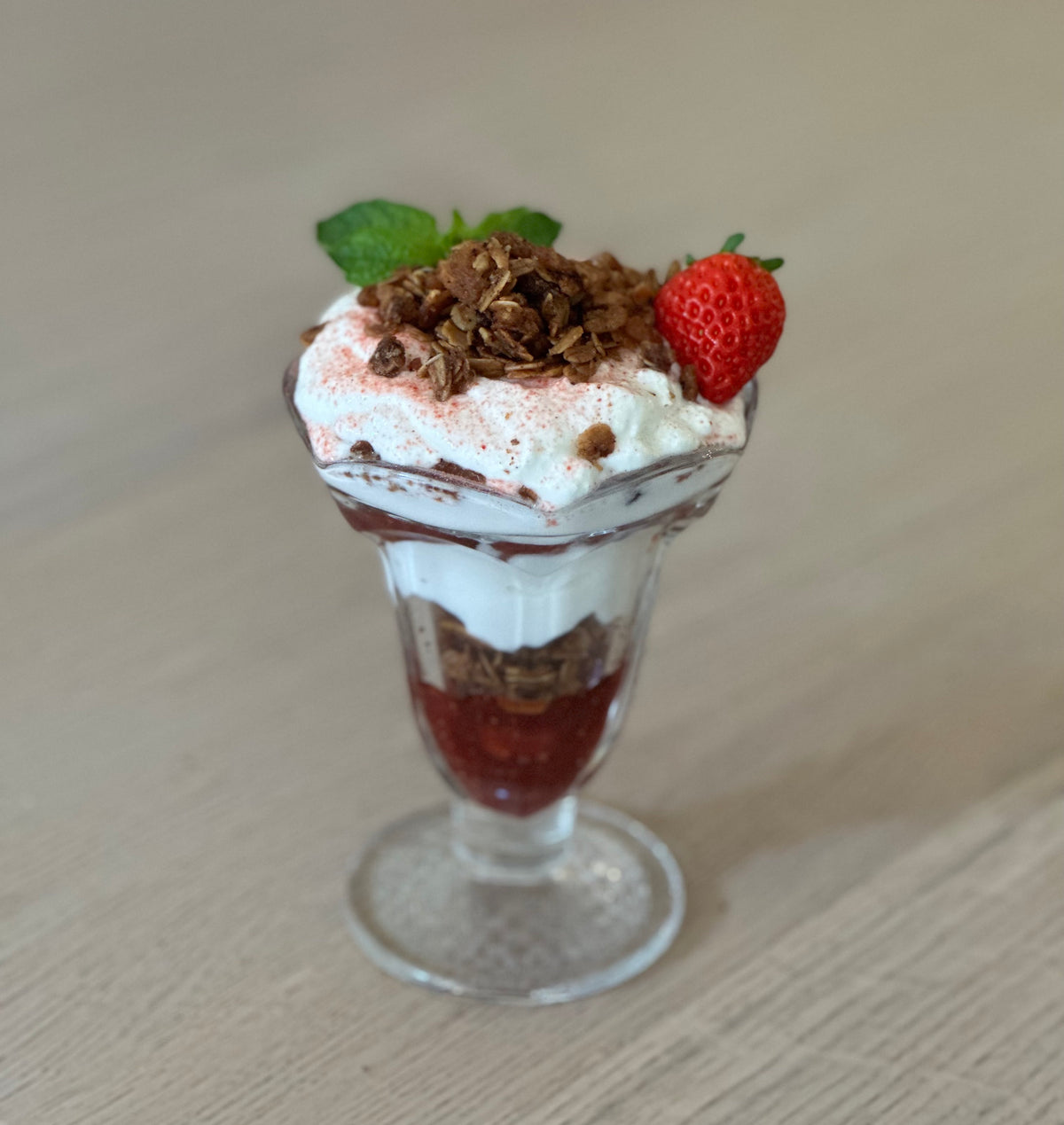 What You'll Need (for two parfaits):
Three trays of 11 medium Koyo Berries

One tray of 20 pieces Koyo Berries for garnish

4 ct La Fermiere Vanilla Yogurt

½ stick unsalted butter

5 tbsp honey 

Mint for garnish

Flakey Sea Salt

Whipped cream

Strawberry powder

Champagne Vinegar

Pastry bags

Parfait glasses

1 cup Tom's Perfect 10 Granola

How to Make It:
Add the honey to a pot over medium heat and caramelize until it turns a light brown color and begins to bubble. 

Add three trays of 11 medium Koyo Berries, cut in quarters. 

Stir to incorporate the berries, and place back on the stove. Reduce until the compote becomes very jammy and thick, then add a drop of Champagne Vinegar and a pinch of salt. 

Next, brown the butter in a saucepan until nutty and fragrant. Add Tom's Perfect 10 Granola and lightly toast. Remove from the pan with a slotted spoon onto a tray lined with kitchen paper. 

Once the granola and compote are cooled, add the yogurt to a pastry bag. 

In the glass, add a generous scoop of Koyo Berry compote, followed by granola. Then pipe a layer of yogurt, more Koyo Berry compote, and more granola. Top with whipped cream and strawberry powder. Add fresh mint and a fresh mini Koyo Berry for garnish.